Posts for: March, 2014
By Rotunda Dental
March 18, 2014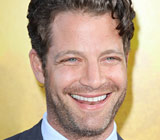 As one of America's most beloved go-to guys for inspiration on the latest interior design trends, Nate Berkus has written a highly successful book, Home Rules: Transform the Place You Live Into a Place You'll Love; he is a contributing editor to O Magazine; and he is currently hosting his own television program, The Nate Berkus Show. He is also recognized for his eye-catching smile.
During a recent interview with Dear Doctor magazine, Berkus opened up about the facts behind his trademark smile. While his smile is all-natural — he never wore braces or had any cosmetic work done — he gives credit to his childhood dentist for the preventative healthcare he received as a young boy. "I'm grateful for having been given fluoride treatments and sealants as a child," he said. Nate also shared the important flossing advice he learned from his dentist that he still follows today: "Floss the ones you want to keep."
Why is flossing so important?
Flossing is crucial because it remains the most effective method for removing plaque from between teeth, where the toothbrush can't reach. It is also an important part of keeping your gums healthy so that you can avoid periodontitis (gum disease). You should floss at least once a day either before or after you brush your teeth. If you see blood after flossing, it may indicate that you have periodontitis, or it may mean that you are flossing too harshly. Remember, you need to use a delicate hand and a proper technique when brushing and flossing to avoid damaging your teeth and gums.
To learn more about flossing, including step-by-step instructions with photos, you can continue reading the Dear Doctor magazine article "Flossing — A Different Approach." Or you can contact us today to schedule an appointment so that we can conduct a thorough examination, review your brushing and flossing techniques, and discuss any questions you have as well as treatment options. As needed, we will work with you to teach you the proper brushing and flossing techniques so that you feel confident before you leave our office. And to read the entire interview with Nate Berkus, please see the Dear Doctor magazine article "Nate Berkus."
By Rotunda Dental
March 03, 2014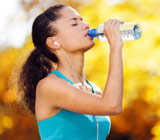 If you or your family has an active sports lifestyle, you probably already know the importance of food and liquids for energy and hydration. But what you eat and drink (and how often) could unintentionally increase your teeth's susceptibility to tooth decay. With that in mind, you should plan your nutrition and hydration intake for strenuous exercise to maximize energy and reduce the risk of tooth decay.
On the general health side, carbohydrates are your main source of energy for sports or exercise activity. You should eat a substantial carbohydrate-based meal (such as pasta, cereal or sandwiches) a few hours before a planned event. An hour before, you can snack on something easily digestible (avoiding anything fatty) to prevent hunger and as additional energy fuel.
It's also important to increase your liquid intake before strenuous activity to avoid dehydration, usually a couple of hours before so that your body has time to eliminate excess fluid. During the activity, you should drink three to six ounces of water or sports drink every ten to twenty minutes to replace fluid lost from perspiration.
While water is your best hydration source, sports drinks can be helpful — they're designed to replace electrolytes (sodium) lost during strenuous, non-stop activity lasting more than 60 to 90 minutes. They should only be consumed in those situations; your body gains enough from a regular nutritional diet to replace lost nutrients during normal activity.
In relation to your oral health, over-consumption of carbohydrates (like sugar) can increase your risk of tooth decay. The acid in most sports drinks also poses a danger: your teeth's enamel dissolves (de-mineralizes) in too acidic an environment. For these reasons, you should restrict your intake of these substances — both what you eat and drink and how often you consume them. You should also practice regular oral hygiene by brushing and flossing daily, waiting an hour after eating or drinking to brush giving your saliva time to wash away food particles and neutralize the acid level in your mouth.
Knowing what and when to eat or drink is essential to optimum performance and gain in your physical activities. Along with good oral hygiene, it can also protect your oral health.
If you would like more information on the best sports-related diet for both general and oral health, please contact us or schedule an appointment for a consultation. You can also learn more about this topic by reading the Dear Doctor magazine article "Nutrition for Sports."